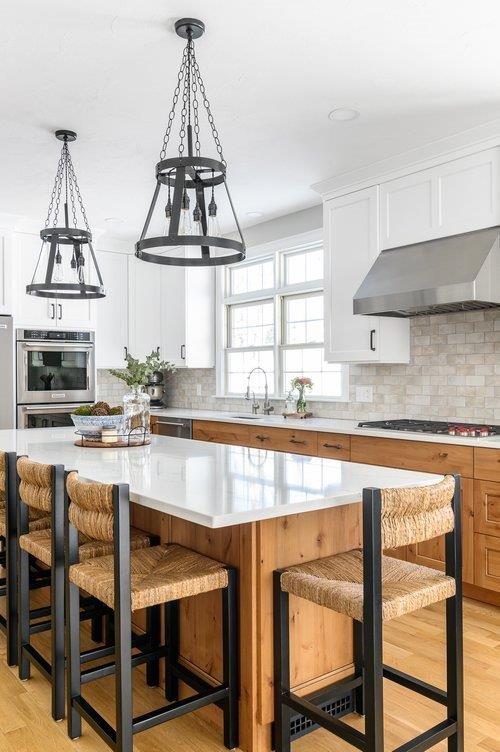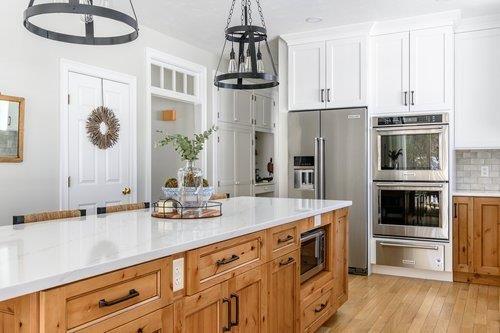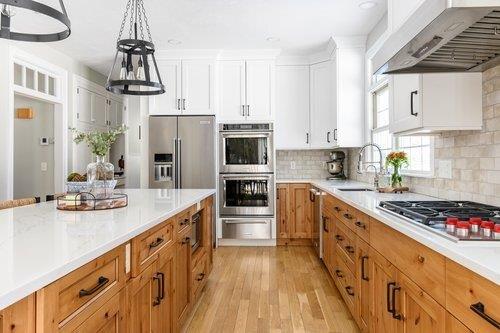 Distinctive Kitchen With Awesome Alder
Base cabinets in Rustic Alder/Natural with Brown Glaze work beautifully with upper cabinets in Hingham paint for a truly stunning look in our latest Featured Project – this cheerful and welcoming kitchen in a Massachusetts home.
A wall was removed to enlarge the kitchen, and the homeowners chose frameless Brighton cabinets in Hampton MT door style. Designer Ruth Bergstrom noted this project is the third among members of the same family with whom she has worked; each renovated their kitchens. One of the earlier projects had Rustic Alder, which these homeowners also chose to help fulfill their goal of a new island with a bare wood look.
The kitchen design in this home, located in a rural small town in Massachusetts, offers a modern farmhouse look that showcases the Alder, particularly in the elongated island. Both the Rustic Alder and Hingham painted Brighton Cabinetry bring the understated but robust feel to this project.
Harmony & Versatility
The bright white of Hingham paint on the wall cabinets brings a light and airy look to the room. The warm Rustic Alder in the base cabinets and island offers a smooth transition to bridge the gap between white cabinets above and wood floor below.
The Amerock bronze door and drawer pulls fit the look of both sets of cabinets, illustrating the versatility of Brighton handcrafted cabinetry. Above the island are wrought iron island pendants, designed by the homeowners and crafted by local business KMR WERKES of central Massachusetts.
This overall kitchen design utilizes Brighton cabinets to their fullest potential by allowing for maximum storage in a carefully planned companionship that helps this kitchen work smoothly for any preparation and gathering, from a simple dinner for two to a hearty family holiday meal.
What's Inside
Top features incorporated into these cabinets include tray dividers, rollouts below the cooktop, a spice pullout, and the built-in microwave space in the island. In addition, the homeowners are pleased with the deep drawers and their storage capacity, plus the ability to stack multiple items inside the handmade Brighton cabinetry.
With their choice of Brighton cabinets, these homeowners have gained a one-of-a-kind kitchen with well-made custom cabinetry that will serve their family for years to come.
It's Your Turn!
After all you have invested into your home, you deserve that one-of-a-kind look, too! Brighton Cabinetry can help bring your vision into focus and make it a reality. If you are interested in having cabinetry made by Brighton, please visit our Find a Dealer page, where we have all our dealer locations listed.
Designer: Ruth Bergstrom
Location: Kitchen Associates – Sterling, MA
Species: Maple & Rustic Alder
Finish: Lower – Natural with Brown Glaze/Rustic Alder; Upper – Hingham Paint
Overlay: Frameless
Doors: Hampton MT
Drawers: Hampton MT 5 Piece Flat
Photographer: Jeff Baumgart/Baumgart Creative Media