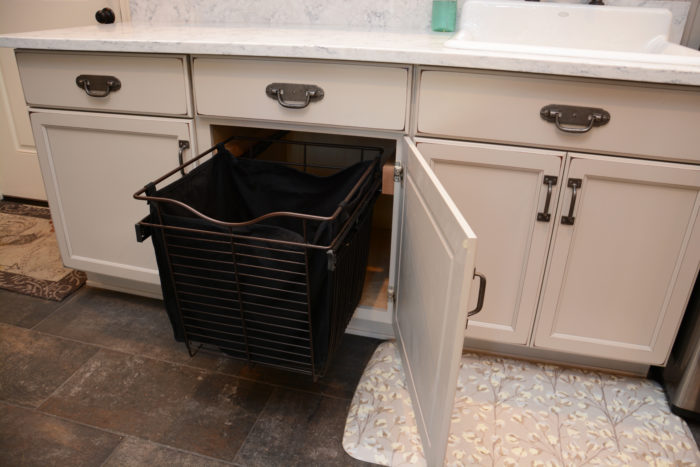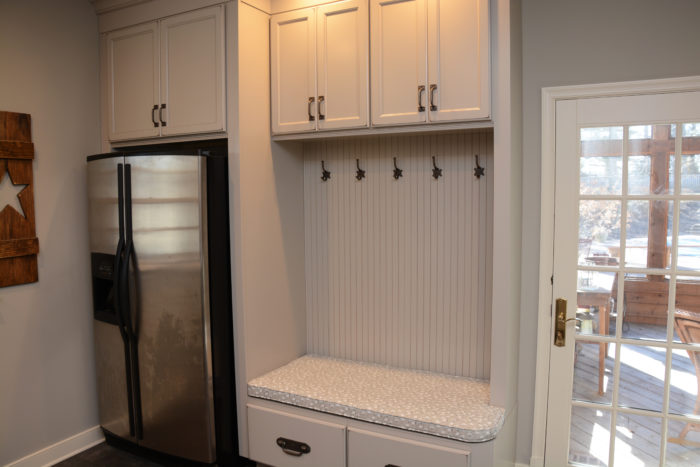 We build more than kitchens!
Brighton Cabinetry builds cabinets for every part of the home.  Skilled at kitchens and bathrooms, we want to step outside the box and show you something a little different.  This month we are featuring a laundry/mudroom project.
Every room has a need for storage. Homeowners want ample space to keep clutter under control. Custom pullout pant rack, baskets, and an iron board are conveniently built into the cabinets to save space and are easily accessed for optimal use!
Speaking of custom items, the color of the cabinetry is custom as well.  Brighton can paint cabinets in a variety of standard colors; however, we often have requests for colors that are unique and we see many fun colors come through our factory.  What is special with this custom color is the wear sanding around the edges that gives a slightly worn look that is popular in cabinetry these days.
Another interesting feature would be the mudroom portion of the room. Coming into the house with muddy shoes after a hard rain is not ideal for a lot of families.  This space is the designated place to take off shoes, and hang up jackets or backpacks without them being left all over the floor.  Constructed with a seat for those that don't want to bend down to get their shoes back on or off, this particular unit is built with shelving storage on the bottom.
We would like to thank Terri Reiter for submitting a project showing different ways to use Brighton Cabinets. This laundry/mudroom was created from a Maple specie with Custom painted, Neoga Ridge doors.  If you are interested in Brighton Cabinets, we have a Find a Dealer page that lists all the locations where you can purchase Brighton Cabinetry!
Designer – Terri Reiter
Location – Cabinet Discounters (Mt. Airy)
Specie: Maple
Finish: Custom
Overlay: FOLC
Doors: Neoga Ridge Flat
Drawer: Slab