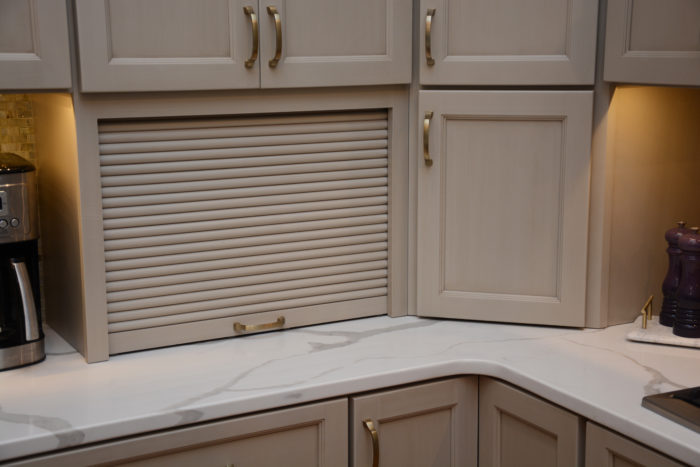 How much storage can one kitchen have?
Welcome to our June Feature Project.  We are showcasing a marvelous kitchen that has many unique spaces for storage.  One of those spots being a lift up garage appliance door, where you can place away some of those larger appliances – for example stand mixers.
Another remarkable storage spot is a custom designed bi-fold door wall cabinet, allowing the doors to open in an accordion style for a larger open area to get items onto the shelves.
To keep some cabinets from looking a little bland, try a design with the addition of glass! At Brighton Cabinetry we offer many different styles of glass, from plain glass to patterned styles.
The feature project is a Maple specie kitchen, with the perimeter painted in our standard color of Landmark, and the island and the mini bar base is one of the newer stains – Truffle.  These two colors are a perfect complement to each other.
If you are interested in purchasing Brighton Cabinetry for your home, please check out our Find a Dealer page on our website where you can find many qualified dealers in or around your area!
Designer: Bill Putiri
Location: Cabinet Discounters (Mt. Airy)
Specie: Maple
Finish: Landmark & Truffle
Doors: Neoga Ridge Flat
Drawer: 5-pc Flat